HR strategy
EUROMED PHARMA FRANCE is a dynamic young company on a human scale and it is expanding rapidly.
We know we will only continue to grow if our staff members feel right at home, if they are happy to meet up every day. Each of us has a role to play in this endeavor, and the capacity to act on and shape our day-to-day jobs. Our work is meaningful, thriving with multiple actions that help save lives around the world.
Beyond specialized expertise (logistics, quality assurance, support functions, etc.), we place great importance on the "COLCA spirit": the values of exactitude, consideration, enthusiasm and integrity which we apply daily in serving our colleagues, customers and their patients.
If you're looking for a public health mission to take on, EUROMED PHARMA FRANCE is tailor-made for you!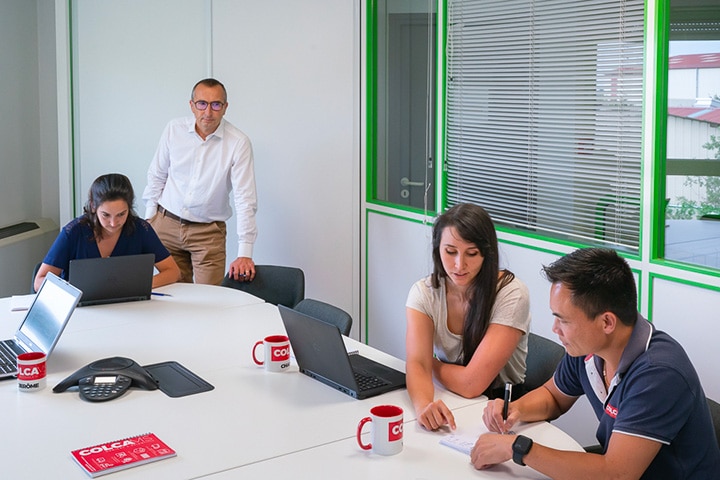 Our values
Exactitude
Building, planning, checking, leaving nothing to chance: the exacting nature of quality is imbedded in our genes. We create "tailor-made" solutions for our customers, with precision and great attention paid to the smallest details, in strict compliance with GMP and GDP which apply to everyone, in every step of every operation.
Consideration
Consideration for the individual, the organization, its challenges and constraints: this is at the heart of our approach. Because listening, understanding and adapting and then applying the utmost care to build useful and effective solutions, implementing them and tracking their outcomes, all of this requires constant attention throughout every instant of every interpersonal relationship.
Enthusiasm
Enthusiasm is the source of the commitment, loyalty and trust which we maintain with all of our employees, customers and partners. Convening, exchanging, deliberating and growing together are everyday moments where pleasure reigns, in the context of the constructive relationships we build over the long course.
Integrity
Integrity is a hard-wired trait of our company, a powerful driver directing our every move and action. In our distribution and manufacturing work, as well as in all relationships, we commit entirely, dedicating our energy to developing logistics solutions to move vital treatments from our industrial partners to patients.
Thinking about joining up? Send us your application by completing the form below.
or send us your application by mail to rh@colca-ms.com