January 31 2023
A partnership serving the general interest by contributing to public health
Providing an optimal service in terms of packaging and distribution
COLCA MS supports and accompanies SQY THERAPEUTICS in its fight against Duchenne Muscular Dystrophy (DMD), a genetic disease that causes a progressive degeneration of the body's muscles.
COLCA MS, in the service of the general interest, by contributing to public health, has committed to SQY THERAPEUTICS to provide an optimal service in terms of packaging and complex distribution of products at controlled temperatures. The reference center for neuromuscular diseases at the APHP Raymond Poincaré hospital in Charles (92380) will be supplied by meeting the challenges of the "Avance 1" study.
It is important to remember that this disease affects approximately one boy in 3,500 at birth. It is characterized by a deficiency of dystrophin, a protein located under the cell membrane of muscle fibers. It can be caused by an alteration of the muscles, the nerves or the circulatory system.
This results in an inexorable and very disabling muscle degeneration. Boys usually lose their ability to walk between the ages of 10 and 13, and respiratory assistance is often required from adolescence onwards. The damage to the heart muscle is life-threatening.
Born from the initiative of parents of myopathic boys and researchers whose objective was to implement R&D programs for genetic diseases, SQY THERAPEUTICS is launching its "Avance 1" clinical trial on pediatric and adult patients.
Patients are currently being recruited to participate in the first-in-human administration of SQY51, a new generation antisense oligonucleotide designed to restore semi-functional dystrophin by skipping exon 51 of the DMD gene.
Modeling of compound drug SQY51 :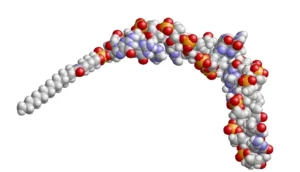 The "Avance 1" study is a single-center Phase 1/2a study to evaluate the safety, pharmacokinetics and pharmacodynamics of SQY51 in patients. During Phase 1, these patients will receive 6 ascending doses of the compound intravenously for 13 weeks. During Phase 2a, the Phase 1 participants will be divided into 3 cohorts, each treated with a different dose of the compound for 32 weeks.
The expected result is that SQY51 restores dystrophin production, where it is needed, in order to slow down or even stop the progression of the disease in Duchenne patients affected by the exon 51 jump.
Thus, thanks to this innovative therapy, research is progressing with the aim of developing a new drug that offers hope for the treatment of DMD patients.
SQY THERAPEUTICS team
Source: Communiqué lancement essai clinique AVANCE1 – SQY THERAPEUTICS
---